FOXERS has been featured on:
FOXERS Holiday Gift Showcase
Matching couples underwear is the perfect gift for that special someone who already has everything they want or need. This year, Foxers introduced classic black and white Tuxedo Monogrammed Mr. and Mrs. Boxer Briefs.
- Libby Dowd, Lingerie Journal, December 18, 2017
Freya Romance Boutique Spotlight
And after some serious searching, she came across FOXERS. Kari reached out to the brand and learned that FOXERS's owner, April Spring was willing to work with her and that the FOXERS brand was exactly what Juneau needed. It was a perfect match, and April soon came to visit Freya to see one of her best-selling retailers in person!
- Rachel O'Donnell, Lingerie Journal, October 10, 2017
Fun, Comfortable, FOXY: Lady Boxers
The best inventions are problem solvers. Before Foxers were invented, women had to worry about uncomfortable underwear riding up and not staying in place. Well, not anymore. Foxers came about as a solution to the problem. Women complained about underwear looking cute but not being functional, or being comfortable but not very feminine.
- Addie Mcneel, South Magazine, October 06, 2017
Sugar Candy bralette x Foxers Lace boxer review
I love the way it fits me. It is made from an amazingly soft lace (seriously Foxers lace is super super soft, I wish I could fit in their bralettes). This lace is also very cute and I enjoy the way the designer played with different levels of sheerness.
- Wen, Comic Girls Need Bras, August 30, 2017
Benmark showcases FOXERS at Harrogate
Benmark has become the distributor for the UK. View the latest ranges of FOXERS at Benmarks booth at the Harrogate bridal show, Stand C11A in Hall C from 10th-12th September.
- Attire Bridal, August 30, 2017
HOW GEORGIA COMPANIES ARE BUILDING GLOBAL BRANDS THROUGH E-COMMERCE
Georgia businesses are no stranger to the game-changing opportunity that lies in e-commerce. Companies like FOXERS are using e-commerce models to help boost overseas business and expand overall consumer reach."
- De'Osha Randolph, August 25, 2017
CURVENEWYORK: Retailers Dish On New Vendors and Trends
Foxers! Now that's a novel product—Sexy boxer shorts where the waistband is meant to show! We have a very diverse clientele and both "Coco" and "Lola" think we will do great with these adorable boxer shorts. We are after all also located within walking distance of three colleges. Besides that, "Coco" says these sexy little boxer shorts can be worn out as well and make her happy just looking at them!""
- Libby Dowd, August 19, 2017
Foxers Roses Forever Collection
The tossed rose print features small, wide-open roses on a sage green background. Spring says she went with the print because it has a very vintage feel to it. "I'm really into period movies," she says. "I've taken a lot of inspiration from ones like Marie Antoinette.""
- Libby Dowd, July 27, 2017
Designer Spotlight: April Spring, FOXERS
Whether it's on vacation in the Grand Cayman Islands or out on the town in her hometown of Atlanta, Georgia, April Spring, founder and head designer of FOXERS, can't shake happy customers wearing her unique underwear design. "Everyone loves showing you their underwear when you're in this business," she says. One time a beach goer shouted to her, "Let me show you my FOXERS! These feel so comfortable. I'm your best customer and I should be your model for the brand!""
- Libby Dowd, June 7, 2017
Foxers Hedgehog Collection
If you're feeling down today, we have one word for you: Hedgehogs.These adorable, spiny mammals are at the core of FOXERS latest limited edition collection. The brand's iconic waistbands feature a fun and adorable HEDGEHOG print with little hearts."
- Lingeie Journal Staff, May 24, 2017
Export Challenge Kicks Off With Suds and Stories
Foxers, a loungewear and lingerie company with patents on putting the men's boxer band on ladies' underwear, praised the Georgia Department of Economic Development, one of the many resources that the challenge aims to promote, along with the Export-Import Bank of the United States (present at the event), the U.S. Commercial Service, the Small Business Development Centers and others. "It's not just the money," said April Spring, whose company manufactures in the U.S. and Malaysia. "It's having this whole team. I don't feel like a small company anymore in Georgia.""
- Trevor Williams, May 16, 2017
Spring Trends Span FOXERS English Lavender Collection
"I look for the softest lace and nylons along with the coziest cottons and rayons to keep FOXERS comfortable. A product that only looks pretty will be a one time purchase, but a product that is pretty and comfortable will become a favorite and repeat customer."
- Libby Dowd, April 20, 2017
Foxers Sexy and Comfy Lougewear, Bralette and Boxers
"The lace used in Foxers is extremely soft and comfy, not the least bit scratchy. Overall if you are looking for sexy lingerie that is still lounge worthy and comfortable, or comfy lounge wear that happens to be sexy, I would definitely recommend giving Foxers a try. "
- My Thoughts On Bras; April 5, 2017
Foxers: Boxers For Femmes
"Who doesn't love a comfy pair of pjs to lounge in? Personally, I think these Foxers Boxers are the perfect summer alternative to long sleeves and flannel pants. Especially given the built in bra and pockets, yes pockets in your undies! Comfy, casual, but still totally sexy."
- Ms Lindsay M, Femme Fashionista; March 8, 2017
FOXERS Romantic Collections of 2017
"The new styles are part of FOXERS Romantic Collections of 2017 collections that are sure to please their customers come February 14th and beyond!"
- Lingerie Journal Staff; Friday, February 10, 2017
Lingerie | Foxy comfy: a review of Foxers Aurora blue bralette and shorts
"Foxers managed to create a great balance between comfort and beauty, between masculine and feminine... I've turned into a fan of these loungewear pieces!"
- Nádia Sepúlveda, My Fashion Insider; February 4, 2017
LEATHER + LAYERED LINGERIE
"FOXERS has a vast collection of beautiful and high-quality intimates for great prices. Side note: Aside from their gorgeous tops, they also have the most adorable lace boxers, which could be good to keep in mind for Valentine's Day!!"
- Priscilla, Best Trends for Life; January 27, 2017
The Ultimate Wish List: Holiday Gifting Edition
"Your holiday fix for cute lingerie and p.j's, April Spring's line is perfect for this year's holiday season. Any of the women in your life will adore this line that prioritizes comfort while looking extremely sleek and refined at the same time. Having discovered the contraption of boxer bands on women's underwear 10 years ago, Spring's business has boomed, and we thank her for comfy knicks, all day, everyday. "
- Amy Corcoran, SWAAY; December 20, 2016
PLUS SIZE REVIEW: FOXERS LACE BOXERS, CAMISOLES AND MORE!
"Foxers Lace Boxers have gotten a ton of press for a good reason. They're a great girly take on the boxer trend and their lace is fantastic. "
- Holy Jackson, The Full Figured Chest; December 15, 2016
9 Weird Pairs Of Underwear On Amazon That Are Totally Genius
"I'm in love with these FOXERS boxer briefs with pockets, all because of their ultra-soft cotton fabric and innovative design. They've got side pockets, a button down front, long legs and a roomy fit to prevent against chafing, and a stretchy waist for the best fit possible. Reviewers love them for everything from travel to sleeping, and they come in over 25 fun styles and patterns."
- Maria Cassano, Bustle; December 5, 2016
9 Awesome lingerie brand you should know about
"FOXERS : underwear, loungewear, sleepwear , lingerie and more . The brand makes a broad range of fun, sexy lingerie for women who are Single or married . "
- Akisak; December 4, 2016
Celebrate Foxers 10 Years with the Rodeo Collection for Your Holiday Gifts
"The "Rodeo" features a newly designed extremely soft Stretch Denim Tomboy Boxer Brief in honor of the original along with men and a women's underwear with retro cartoon cowboy waistbands and their lace camisole's straps. Definitely, a fun way to honor the 'boxer brief'. Why should guys enjoy all of the comfort?"
- Becky, She Informed; December 4, 2016
Special interview with CEO April Spring!
" I love meeting beautiful, strong, motivated woman and I was so excited when she said yes to an interview but before we start a HAPPY 10 YEAR ANNIVERSARY is in order! 2017 marks a milestone in the Foxers brand so I feel so grateful for the interview and so excited for April and her company. Congratulations and cheers to the next 10 years!"
- Patrice Garza, FrankieCreatesX; November 24, 2016
US lingerie brand seeks UK distributor as it eyes British market
"American boutique lingerie brand Foxers is seeking a UK distributor with intentions to move into the British market with its expanding collections."
- Joe Peskett, Lingerie Insight; November 22nd, 2016
FOXERS Something Blue Bridal
"This light hearted hue stands for purity, love, and fidelity. FOXERS takes inspiration from this traditional bridal color for their new Something Blue range of lace boxers and coordinating two row lace camisoles with white, adjustable straps."
- Manoela Marandino, Lingerie Journal; October 20, 2016
How April Spring Made Boxers
"What impressed me the most about Spring, aside from her plan to have people learn to sew in Foxers' factory in Atlanta, was her influence over me. Without once mentioning that she wanted to be featured on Entrepreneurs En Vogue – the website or the podcast, she had me practically begging to feature her. Not only that, but Spring could have name-dropped Beyoncé or any of her other celebrity customers in her email to me.* She didn't. The only name she dropped was mine. It. Worked. Like. A. Charm. Kids, they don't make them like these anymore."
- Shannon Matloob, Entrepreneurs en vogue; October 14th, 2016
Wednesday Addams cloth from Foxers | Foxers Equestria Review
"I didn't know if it was supposed to be worn as a pajama or as an actual shirt for outfit when I ordered it but as soon as I received it I decided that it was too cute to be limited as loungewear/nightwear. Also the length was perfect to wear it with a pair of jeans. :3 . I am so in love with this white collar!! I just want to add this detail to my whole wardrobe! As you can see, Foxers paid attention to the details for this shirt construction, so that it has an actual shape and looks more elegant thanks to the seem in the back, I think. That is maybe the difference between this piece and many cotton pajama tops."
- Wen, Comics Girls Need Bras; October 12, 2016
FOXERS Feathers Collection
"From the peacock to the Bird of Paradise, plumage dazzles and delights. FOXERS latest collection, Feathers, takes a cue from nature and adds a beautiful feather print to is famous waist bands."
- Luis Paredes, Lingerie Journal; September 27, 2016
17 Places to Buy those Sexy Bra and Panties that You Can Feel Good About
"Extra Note! Foxers is listed in We Speak's Client Pride Directory, meaning they are a supporter of hiring healthy models."
-We Speak NY; Sept 26, 2016
Not Boxers ~ FOXERS™
"A cornucopia of kicky, colorful underwear replete with eclectic fabric mixes and cool details alien to this category (snaps and pockets)"
- Ellen Lewis, Lingerie Briefs; September 6, 2016
FOXERS Tomboy Boxer brief review
"I adore when girl panties have this wide elastic that is usually used for men underwear. Second, I love the Charcoal colorway. It is like the « jean » of colorways, going well with everything."
- Wen, Comics Girls Need Bras; August 30, 2016
FOXERS SAHARA OASIS
"Design highlights include the pairing of sexy leopard print with a beautiful sand color (the collection's version of nude) that customers are sure to find will look great all year long."
- Luis Paredes, Lingerie Journal; August 29, 2016
How April Spring Lets Her Foxers Sell Themselves
"The FOXERS lace boxer briefs cover things up while still being breathable and lightweight... Unlike other briefs, the band fits snugly around your waist to prevent lines, and they have a subtle interior lining to keep certain areas covered."
- Shannon Matloob, Entrepreneurs en vogue; August 22, 2016
10 Best Undies For Skirts & Dresses When You Want More Coverage, Because Wind
"The FOXERS lace boxer briefs cover things up while still being breathable and lightweight... Unlike other briefs, the band fits snugly around your waist to prevent lines, and they have a subtle interior lining to keep certain areas covered."
- Maria Kassano, Bustle; July 20, 2016
Best 5 Luxuriant Lingerie Shops
"Because everyone knows how comfy boxers can be, April Spring decided to take the boyish intimate and transform it into stylish and comfortable panties."
- The Editors, Modern Luxury; July 6, 2016
3 Pairs of Underwear To Help You Survive Without Air Conditioning
"I would not have not been able to sleep without my Foxers Boxer Briefs. Underwear that doubles as pajama bottoms? Essential to life."
- Jeanna Kadlec, Bluestockings Boutique; August 8, 2016
Foxers Underwear
- Michelle Broomes, Lingerie Journal; July 18, 2016
CurveNY Snapshot: Foxers and Vanilla Night & Day
"FOXERS give women the comfort and style of boxer shorts, but still look and feel sexy."
- Lingerie Journal; July 18, 2016
Social Media Photo Editting Apps & Advice
- Lingerie Journal; July 14, 2016
Honeymoon Lingerie
"Foxers has a whole line of boxer briefs cut specifically for women"
- Stephanie Kaloi, A Practical Wedding; May 31, 2016
13 Minimalist Plus Size Lingerie Designs For Those Who Loathe Ruffles & Bows
"How to improve on the classic boxer brief? By adding pockets, of course."
- Mariah Carrillo, Bustle; May 29, 2016
Lingerie Spotlight – FOXERS For Men
"The fit of the boxer briefs was fantastic and the thickness of the cotton and spandex felt unbelievable; not constricting in the least. The snaps proved convenient (and fun, adds my bride) and most impressive of all? Wait for it…the legs did not roll up. Ever."
- JohnnyZapp, May 4, 2016
Lingerie Spotlight – FOXERS
"my wife lives in her FOXERS. Evenings after work and Sunday mornings, she will likely be found in any combination of the racer back tank, designer t and the boxer briefs, boyshorts or lace boxers; and let me tell ya, I couldn't be happier."
- JohnnyZapp, April 22, 2016
13 Stunning Plus Size Bridal Lingerie Designs For Your Special Day & Beyond
"You'll feel as comfortable as you are gorgeous in these lace boxer briefs from Foxers."
- Mariah Carrillo, April 21, 2016
Product Review: Lace Boxers by Foxers
"I think my favorite part about these is the feeling of coverage, while managing to still make me feel like I have nothing on. They are so breathable. I really thought the lace would be itchy or bother me, but honestly I can't even tell that I'm wearing mostly lace boxers. The thick elastic waist band is perfect and allows them to be worn under anything. I prefer to wear them at home with nothing else covering them, but I have even worn them to work under my dress pants and there was no sliding down or awkward patterns showing. This is probably my favorite purchase I have made so far regarding underthings and I would be so willing to buy more of these so I can have multiple pairs."
- Jeanna Kaldec, March 6, 2016
Where to Buy Plus-Size Androgynous Underwear
"I like that Foxers does not merely take men's underwear and make them for women – they innovate to create amazing androgynous lingerie."
- Avigayil, February 29, 2016
35 Export Winners Announced
The Atlanta Metro Export Plan has announced 35 winners of $5,000 grants intended to boost metro Atlanta companies' international sales.
- Trevor Williams, January 27, 2016
Rebounding from recession using social media with April Spring
- Cheryl Tan, January 17, 2016
Foxers in the News
"The lace is soft and stretches to supply a comfortable fit"
Lingerie Talk, January 12, 2016
The 11 Best Underwear Brands Every Woman Should Know
"I fell in love with Foxers"
- Alysse Dalessandro, January 3, 2016
Foxy Foxers
"The lace range is gorgeous, and would actually be a great option for someone who wanted something sexy but also comfortable for special occasions."
- Lillipilli, June 16, 2015
#WhatsTrending: Lace Boxers + Nail Rings!
"Foxers are cute and are the perfect way to wear something sexy without feeling like a prostitute."
- @theCarlaMarie from Elvis Duran and the Morning Show, May 11, 2015
Time here brief, but "Foxers" is going strong again
- Jamesetta Walker, Apr 7, 2015
#Clotheshorse
"Looking sexy just got a whole lot comfier with Foxers, an ATL-based lingerie brand that combines pretty lace boy-short panties with a supersoft 100 percent cotton boxer-esque waistband." -Jezebel, February 6, 2015
Women Get Foxy in Foxers Boy Briefs
"There is nothing thin and flimsy about the fabric. Yet somehow they are also extremely breathable and comfortable."
- Lianna Carrera, January 29, 2015
Review & Giveaway: FOXERS Papaya Lace Boxers & Camisole
"I was drawn to the deep colors, contrasting waist bands, and the general idea of a common mens' item being adapted to be cute and feminine."
- Florence Nightingale, September 7, 2014
FOXERS: Taking Lingerie To New Levels
"I am proof that once you try FOXERS, you are committed for life (personally my favorite is the lace camisole with adjustable straps that are made from the same fabric as the waistbands)."
- Elissa Rosen, December 6, 2013
Bella Moda sits down with April Spring of FOXERS Designs…
"I just now had to let go of my first pair of foxers from years ago. They were comfortable, stylish, and descrete. The material never stretched and they fit perfect!"
December 09, 2012
Foxers Boxers for Women
"The most comfortable underwear she has ever worn. The bows, stripes and lace added just the right touch of femininity."
- Rose DesRochers, April 6, 2011
FOXERS Review
"These lace boxer shorts are super soft against your skin and also the one that you are laying against at night. "
- Dragonfly Sweetnest, August 26, 2011
FOXERS - Girly Boxers Review
"Do you ever wish you could just wear your husbands boxers - you know just because they look oh so comfortable? Well I have found the most girliest, sexiest, comfortable boxers... called FOXERS!"
August 2, 2011
FOXERS(R) Donates to Wounded Warrior Project for Soldier Care Packages
"Lingerie brand FOXERS(®) will donate several hundred pairs of their women's underwear to Wounded Warrior Project"
Dec 04, 2009
Fashion Notes: Foxers undies added to care packages; vintage show to benefit YWCA
"Lingerie brand FOXERS has donated a second wave of 300 women's underwear to Wounded Warrior Project"
- Jamesetta Walker, Dec 9, 2009
Take a peek beneath the surface of the U.S. underwear business
"an underwear line that combines a comfortable boxer short waistband with feminine bottoms and a signature bow on the backside."
- Jamesetta Walker, Feb 18, 2009
Norfolk-based Foxers to launch nationally at Dillard's stores Saturday
- Jamesetta Walker, Dec 11, 2008
Flipping our idea of fashion, Norfolk woman's business is riding high
"Counted among Foxers fans are The Backstreet Boys, "American Idol" winner Jordin Sparks and Beyoncé, who was featured wearing the undies in the March issue of InTouch magazine."
- Jamesetta Walker, Oct 22, 2008
Foxers or briefs?
"These cotton, spandex, and nylon undies give gals the comfort and style of guys' boxers with the bonus of colorful waistbands and leg trim - and the lace designs are to die for."
- June Wulff, March 24, 2008
New Brand 'FOXERS' Blitzes U.S. Trade Shows and Becomes a Favorite Among Celebrities
"FOXERS were gifted in New York at its annual Jingle Ball to several celebrities including Jordan Sparks, The Backstreet Boys, Avril Lavigne, Alicia Keys, Keri Hilson, Menudo, Colbie Caillat, and more. Also, FOXERS were delivered to Charlize Theron, Hayden Panettiere, and Vanessa Hudgens for valentines. The New York Titans dance team will open their home season wearing FOXERS too."
Jan. 24, 2008
HiveExclusive: Stylehive's Jingle Ball Celebrity Swagmeister Awards!
"Backstreet Boy Nick Carter got a little overheated over Foxers Boxers, an ingenious new breed of underwear that uses guy€™s boxer shorts as the banding, making unwanted butt crack peep shows a thing of the past."
- Sabrina Newman, Dec 20, 2007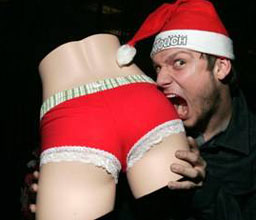 Nick Carter and Foxers Boyshorts at the 2007 Z100 Jingle Ball
Stars in Orbit: Pitt, Hudson and Ferrell
"SEASONAL SWAG: Avril Lavigne, Chace Crawford and the Jonas Brothers, picking up Fashionation iPod cases, Foxers Boxers shorts..."
- E Online, Dec 17, 2007
Foxers underwear gaining attention
December 1, 2008
April Spring Designs FOXERS, a New Breed of Underwear for Women
"A new breed of underwear for women to help solve the problem of panty exposure"
May 02, 2007
Lingerie Find: Foxers Boxers For Women
"These are possibly the cutest form of underwear I've seen to date (and happen to be a great conversation starter). "
- SheFindsTara, July 5, 2007
Summers Hottest Color Adds
A clip from the Chicago Herald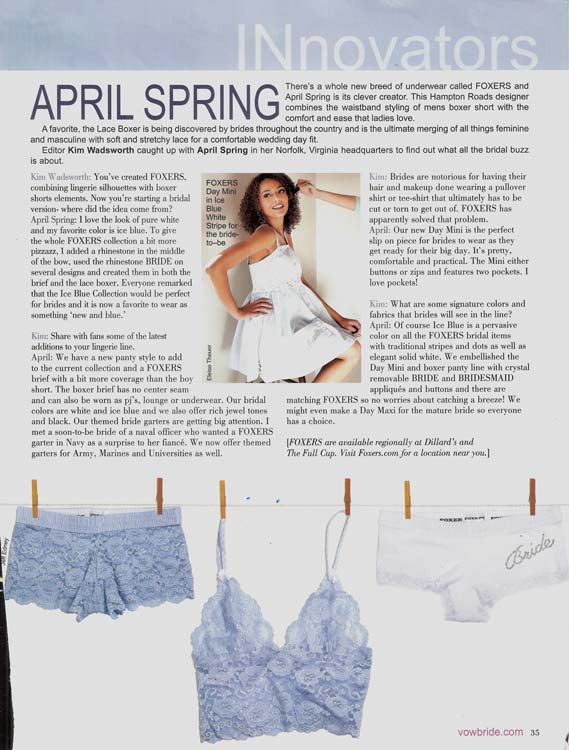 INnovators
"A favorite, the Lace Boxer i being discovered by brides throughout the country and is the ultimate merging of all things feminine and masculine with soft and stretchy lace for a comfortable wedding day fit. "
-Vow Bride Magazine
If you would like to work with us or you would like to be included in our press and marketing please contact us at Sales@Foxers,com