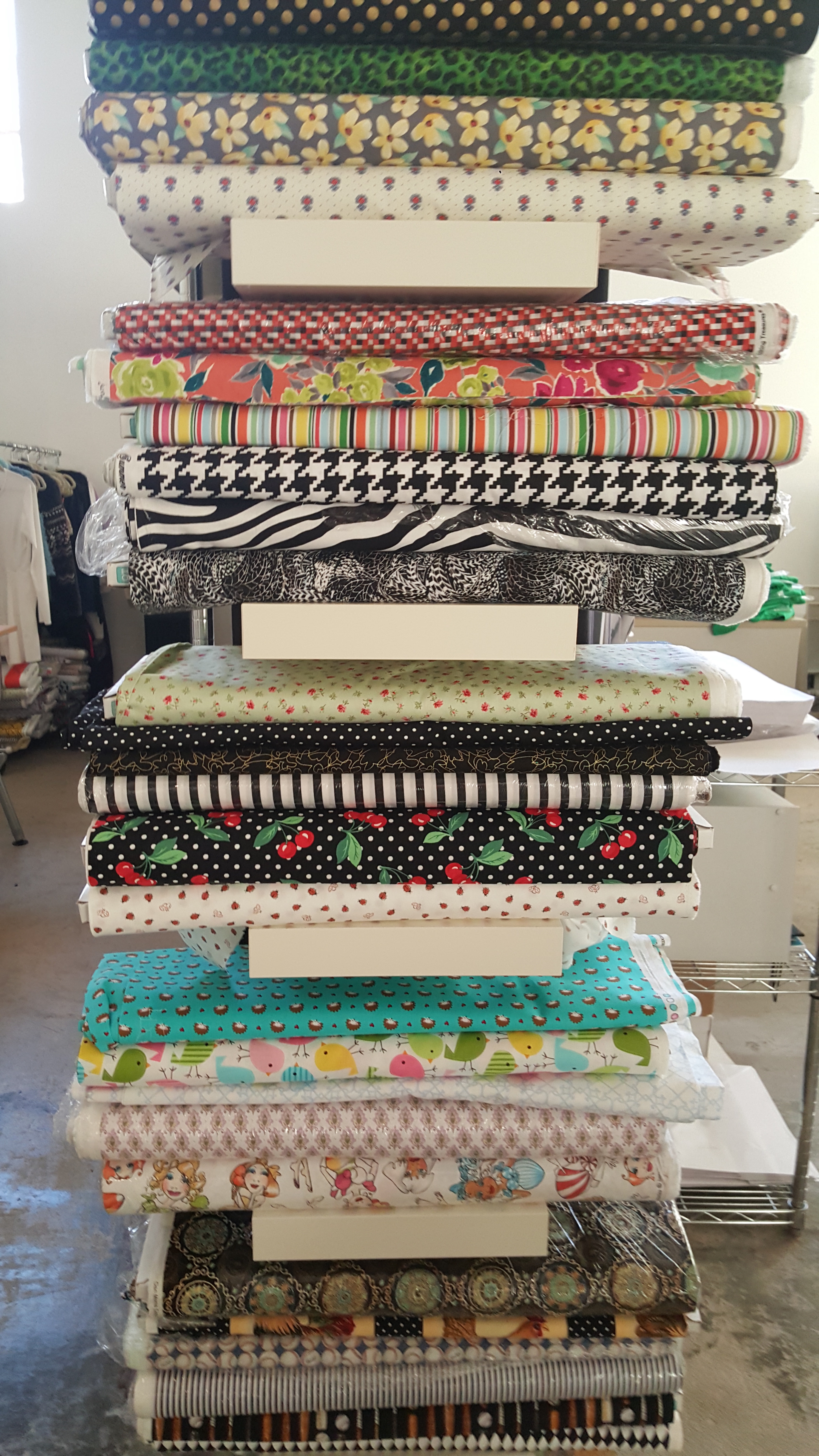 Just look at this great pile of fabrics. After running a brand for more than 10 years, you amass a collection of fabrics. I would sometimes look over at the fabrics from collections past, present, and future thinking; "What can I make from those that would compliment our current styles?" What would be comfortable, lounge, day wear, and functional. Yes, like Foxers, Fun, Comfortable, and Foxy.
A few years ago I used some of our black and white checked fabric to make a few mini skirts for models to wear to a car show. Fast forward a few years and I am staring at our collection of FABULOUS fabrics when the skirt came to mind. Oh, I can make skirts out of all of these.
I wanted a skirt that women could wear to work, social, church, etc. so I improved the design. I made a very full, knee length, elastic waist, big deep pocket comfortable skirt! Then I wore the heck out it! The first test is to wear it in front of my husband and see what he says. He has great style. He said "you look nice, honey". I said "Thank you! It's a Foxers skirt" He took the first photo of me wearing the first skirt on the balcony that morning and posted it on Instagram and he said to me… (no kidding)…skirts that make your legs look skinny! I am still laughing. Bless his heart he didn't realize that he just said my legs look fat but he was complimenting me and offering a great deal of help to anyone that wanted to make their legs look skinny!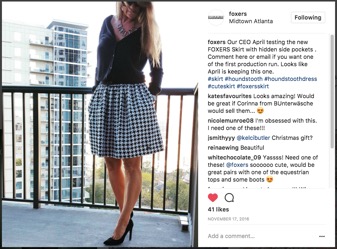 So now we make beautiful, fun, comfortable skirts! I have worn the skirts to the office, a bridal shower, a customer visit, a pool cover, a beach cover, a lake cover, a pj with a t-shirt, with a winter big sweater, and more. The style looks best with a button up cardigan. Oh, should I make cardigans?? …. LOL next year.Please let us know if you want a skirt made from one of the fabrics you may see in one of our collections. Also, upon request we can make a shorter version (for our petite friends). I'm 5' 8.5" tall so I make many of our styles on the long side.
Until next time…Cheers, April of Foxers -- Designer