I was recently on Amazon.com and ran across this great review that highlights an interesting use for the pockets on our boxer brief - hide your passport in them while you travel!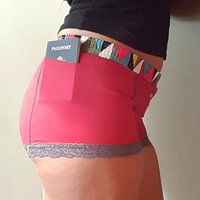 Whether you're planning a trip to hitchhike Europe or stay in 5 star hotels in Asia, part of traveling is navigating through places where you are a tourist and sometimes a target. If someone can pickpocket items from your underwear... either you're passed out like I did in Barcelona once or the pickpocket is Houdini.
Next time you take a big trip, consider underwear with pockets as a place to store cash or other important documents and thank D Chaney for the tip!
Safe travels!