We get asked very often how we got started. Here it is...

The Background (2004)

April and I are entrepreneurs. In 2004 we were living in Boca Raton, Florida and owned a vintage clothing store called "Vintage 'n Vogue". The store was starting to do well, we were selling in the store and online but it was not the business we dreamed of building together. We would get a great piece (like an Emilio Pucci dress) and although it sold and brought a nice profit, we could not reliably get inventory. April started toying with the idea of designing vintage style dresses we could make and sell. I was working at Motorola at the time (my day job) and a very interesting opportunity arose. I was offered an assignment in Malaysia for 2 years. After only minutes of discussion we decided to take the opportunity. April was faced with closing or selling the store. She sold it in only 2 weeks and we started packing.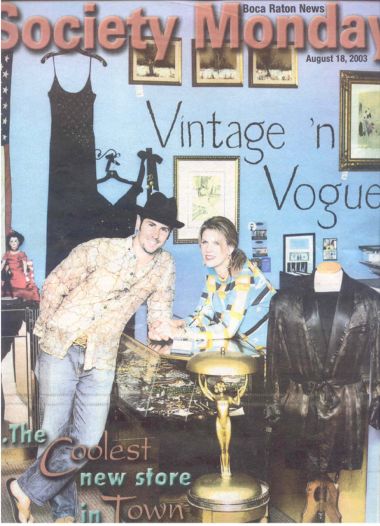 The Setup (2004 - 2005)

We sold half of our belongings, put the other half into a container, and moved to the island of Penang. I was setting up a new software center and April dug into her passion. She took classes in clothing design, illustration, and more. April was drawing all the time, sketching dresses, blouses, pants, shorts, tons of ideas, all fantastic. She was getting the designs made by local seamstresses and began showing her designs.

In our spare time, we would travel around Asia exploring and attending apparel industry events in order to meet fabric suppliers and factories. April was building a list of sources that she could use to manufacture designs.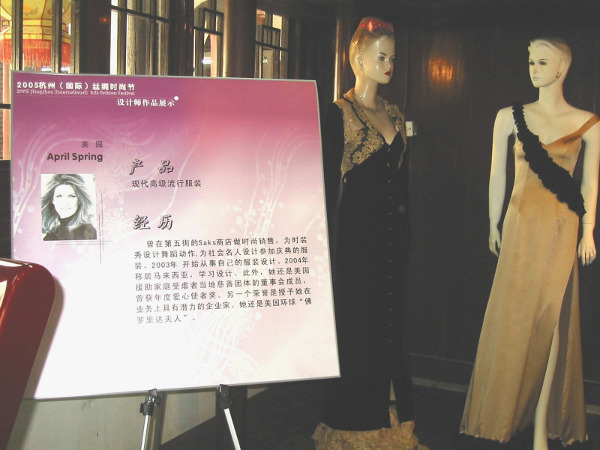 The Idea and the Decision (2006)

We were sitting at a cafe one day talking with friends and we all noticed a girl at the next table whose thong was sticking out above her jeans. April, mentioned that guys don't care if their underwear shows because all that shows is the waistband... when she said it, the idea was born. Within 24 hours she had sketched an idea and made a prototype using a thong and the waistband from a men's boxer short. At this point, we had several potential products, the ability to manufacturer, and some savings to get us started, but we needed to decide which product to pursue (because we could not do them all). I voted for a set of sheer blouses but April chose the underwear which by that time had been expanded to 3 basic styles, a thong, a boyshort and a lace boxer short.

Note: The original sketch was the artwork for our hangtags our first year and the couple having lunch with us at the cafe are now our Australian distributors.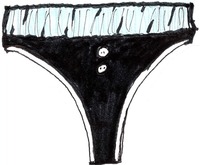 The Launch (2006 - 2007)

It was time to return to the US, so we packed everything up and came back. When we returned, we ordered samples and showed the designs to friends and neighbors using a working name. Our friends loved the products, but the name had already been trademarked. We put our suppliers on hold waiting on the new name. April woke me up in the middle of the night and said "FOXERS". We trademarked the name immediately, ordered our initial inventory and opened the LLC (Limited Liability Corporation).
We had no experience in the apparel manufacturing business. If you are reading this and you are starting an apparel brand; it's hard. You need more money and more time than you think, but if you enjoy it and are willing to put in the work and the time, it is very rewarding.
In 2007, I left Motorola for a startup tech company in Virginia (yes 2 startups at the same time) and we moved again. April opened the first office, a tiny 150 square foot room on Virginia Ham Drive in Suffolk, Virginia and rented a storage unit behind it for inventory. At the end of each day April and I would pick, pack and ship every order we received. Kinkos started in 150 sqft office so we were in good company.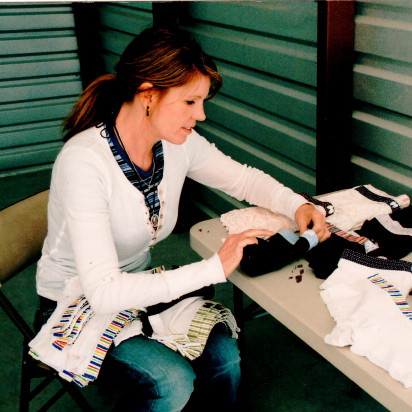 Getting Going (2007 - 2009)

During 2007, April found representatives to carry the line and I built our first website. By the end of 2007 we were in approximately 50 boutiques and our website was getting sales.

We outgrew the tiny office and rented a 4 bedroom house so we could live and work in the same space and minimize expenses. We filled it with inventory and desks and started hiring to help us keep track of orders, supplies, etc. When trucks were rolling up to the house every day we knew we had outgrown the house. Moving time again, so we moved to an office in the Ghent neighborhood of Norfolk, Virginia and all of our inventory to a third party warehouse. If you have hit this point in your business, choose your warehouse partner VERY carefully. Our first warehouse partner was a disaster in every way. We moved to a second fulfillment center 6 months later and they were better, but still not great, and you need a great fulfillment center. (I'll write a separate post on what to look for in a fulfillment center).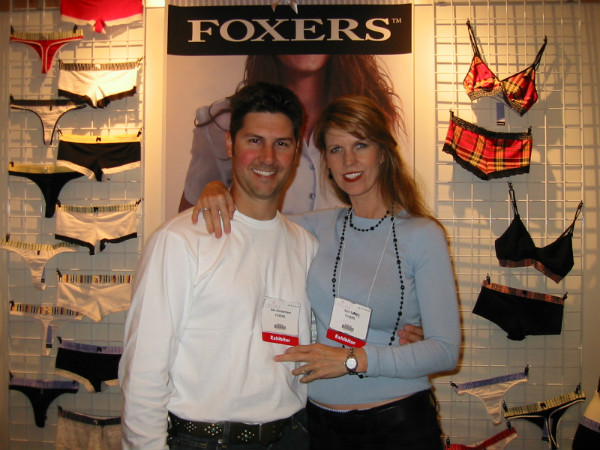 During this time, we landed our first department store, Dillards, and we had a few hundred boutiques across the US and Canada. We were growing.

The Recession (2009 - 2011)

In the recession, many boutique stores in the US (most of our customers) went out of business. Although we had a great relationship, Dillards market strategy changed during the recession so we decided to concentrate on other channels and retailers that matched our price points. The world had changed. We laid off all of our staff and moved into a tiny office on Granby Street in Norfolk. At the same time, my day job closed its doors so times were tough at FOXERS.

I started working with April at the FOXERS office every day and since sales calls were not too productive we spent time getting our back office in order. There were several things we did during that period that are still paying off for us today. 1) I built a new web site that allowed wholesale orders and had some nifty social media features 2) We moved to a great fulfillment company named shipvine 3) We integrated our website with shipvines fulfillment system. To move the warehouse April and I rented a truck and loaded 30 thousand units into a BIG truck. We drove the truck 90 minutes to Richmond and we spent 2 days with the Shipvine guys unloading and checking the inventory into thier system. By the end of this we had a new look, automated connectivity of inventory and orders and a partner who could deliver department store orders as well as web orders. This is a key part of a manufacturing business, you need a really good warehouse and fulfillment capability and integration between all your systems, when you sell through multiple channels like we do.

After 6 months in the FOXERS office with April, I found my next technology opportunity in Atlanta GA so we were moving again. April was stressed but never missed a step. She kept improving the products, adding new products and selling while finding a new home for FOXERS in Atlanta.

The Comeback (2012 - 2014)

One night April and I were at a Mexican restaurant brainstorming (as usual) and orders started coming in from the website at a staggering pace. One of our products had gone viral on social media and people were buying. It seemed like that night we became an ecommerce company. The combination of good photography, social media, and a strengthening economy combined to turn things around for us. Retailers started buying again also and many found us because of our social media presence.

Around this time we tried something new. We made an arrangement with some close friends we met while living in Malaysia to distribute FOXERS in Europe. They have been very successful with the VIP shopping model and have opened FOXERS stores in Austria and Switzerland. We also made a distribution agreement for Australia & New Zealand, with the same couple that was sitting with us in that coffee shop in Penang. Amazon reached out to us so we started selling there as well. Things were moving again. We opened our Atlanta office that we call the "lingerie laboratory" in midtown Atlanta, and started rebuilding our team. Moving to a larger city with an apparel mart, design schools and other clothing labels was helpful to our comeback.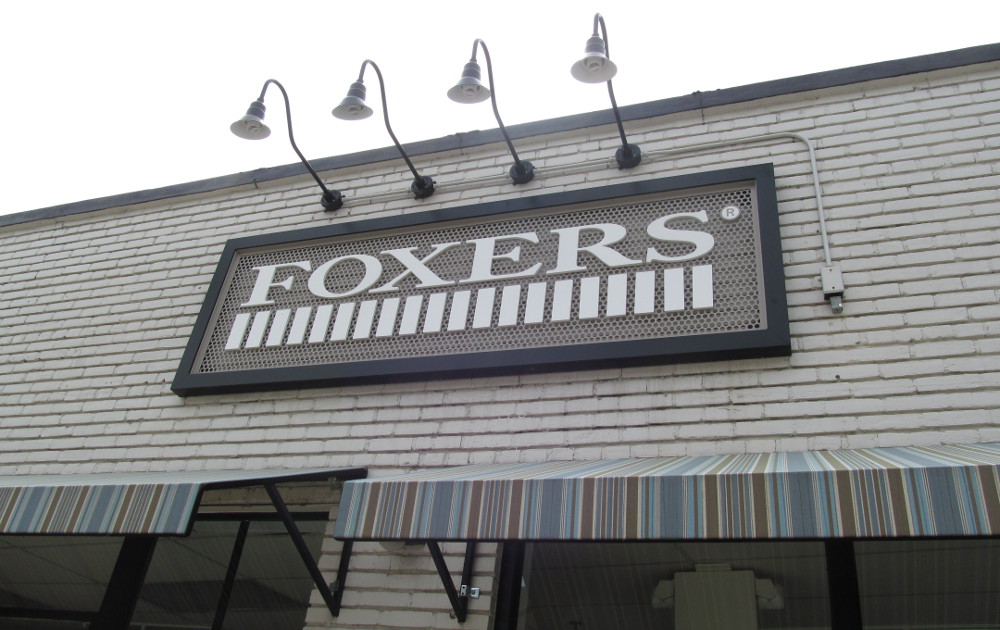 The Future (2015 - )

We have a very exciting year planned but our vision has not changed. More collections, more branded products, and more stories... things are never boring at FOXERS. Tell friends and your local retailers about us, referrals is how we grow. Thank you!
Do you have a question? Contact Us - we'll answer!