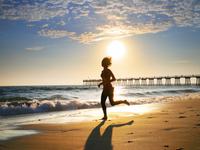 Whether you're getting into shape or trying to stay in shape, Foxers has the perfect products to guarantee a comfortable and hassle-free workout. Ranging from racer backs to boxer briefs to thongs, you'll always feel foxy while working out. Our Foxers team partakes in numerous fitness activities such as long walks at the park, chasing an 18-month-old toddler, or running half-marathons. Fitness wear is becoming rapidly popular, just like Foxers. Together, "Fitness with Foxers" is the best of both worlds.
Racer Backs
Our racer backs are designed with a built-in shelf bra that's comfortable and supportive in all sizes. Better yet, the tank top's softness is perfected to stretch securely. With 92% cotton and 8% spandex, Foxers racer backs are great for controlling sweat if you're running a race, practicing yoga, or wearing it for a girl's night out. Lastly, Foxers racer backs have a little satin bow on the bottom front for the cherry on top.

http://www.foxers.com/racer-back-tank-top/
Boxer Briefs
Roomy with pockets, Foxers boxer briefs are perfect for those on the go! Whether it's mountaineering or playing with kids at home, these panties are designed to create a whole new level of comfort. For exercising activities, these boxer briefs are best paired with loose-fitted active shorts to assure no discomfort or irritation. Foxers boxer briefs are also designed with snap buttons in the front and of course, a little satin bow on the back of the waistband. Made with 92% cotton and 8% spandex, these undies hug the bottom while still allowing optimal active movement.
http://www.foxers.com/boxer-briefs/
Sports Bra
What would "Fitness with Foxers" be if we didn't have a sports bra? Featuring the notorious black Foxers logo waistband to provide prime elasticity, the Foxers sports bra has the optimal support for every exercise activity. Whether it'd be biking, crossfit, or ballet, the sports bra succeeds in maximum support and comfort. In addition to functionality, the sports bra has cute, minor detailing such as little satin bows and buttons.
http://www.foxers.com/sport-top/
Thongs
For those that workout in leggings, our Foxers thongs are the perfect solution. Its durability is perfect for fitness activities, such as basketball, Zumba, or walking. Furthermore, eliminate panty lines and increase flexibility with our thongs. Better yet, the thong's waistband will keep your leggings from sliding down while exercising! Made with 92% cotton and 8% spandex, the thong provides just the right amount of stretch while offering supreme comfort. Presenting a T-back design, the thong has a cute little bow on the back of the waistband.