April Spring, CEO and Designer of April Spring Designs, LLC / FOXERS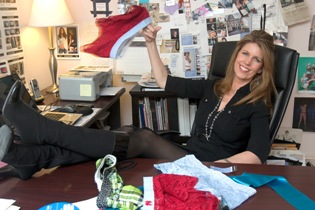 Clothing design and manufacturing have been a lifelong dream for April Spring. With a degree in Business Management from Florida Atlantic University, she spent 15 years in investor relations and business development.

In 2002, April moved toward her dream and opened Vintage 'n Vogue, a vintage clothing store where she also featured Florida fashion designers. In 2004 she followed her husband to Malaysia and used the opportunity to study fashion illustration.
While in Malaysia, April was invited to show her first collection at Silk Week in China officialy representing the USA as a designer and was chosen top designer among eleven countries for her collection's wearability and mass appeal.
In 2007 April Spring Designs was incorporated to take the unique design of FOXERS to market. The line FOXERS started selling in stores in June 2007 and is currently available in eight countries directly and globally shipped through e-commerce.

April's comments on becoming a designer: "Designer still sounds so official. Truly it's more like dreamer and doer. I have so many ideas but there's only so much time to produce so I select my favorites and those pieces our customers want and take action. I have loved to design since I can remember but my mother tells me it was about seven years old when I first ventured on my own to a not so local high-end boutique to help them merchandise the store! I enjoy every day with FOXERS and learn from the mistakes while striving to produce a well made and repected brand. Pinch me!"
April continues to look for ways to give back to the community. If available she never hesitates to lend a helping hand around her current Atlanta, GA town. She is always coming in the office with an idea to help promote Peace or help someone that may be down. She started in 2008 by sending hundreds of FOXERS to the Wounded Warriors; later sending clean/new undies to those in need around the country including one of her favorite charities Dignity U Wear; along with dropping things by the local homeless shelters and famliy shelters. She said her success will be used to help others and that is her end goal but some how she is doing it along the way too. Never to busy to stop and help a passer by or a call for assistance.